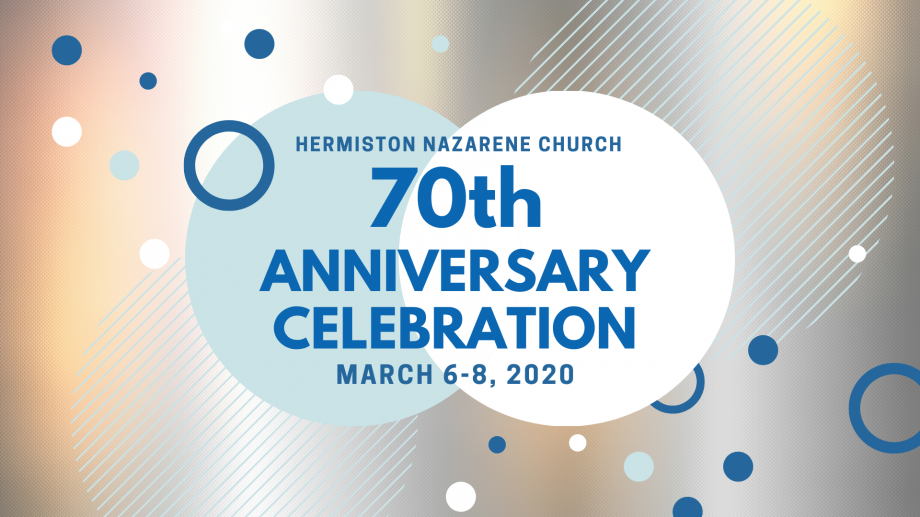 70th Anniversary Weekend
March 6-8, 2020


Hermiston Nazarene Church is getting ready to celebrate 70 years! This is an exciting weekend full of events and celebrating all that God has done over the last 7 decades in Hermiston.
Plan to be around the first weekend in March!





Here are the weekend's events:




FRIDAY, MARCH 6





Friday night, March 6, 2020
PULSE: a free concert for all ages
6:00pm doors open
WITH ROCK BAND: FINAL GREETINGS

Free event. Snack Shack items available for purchase.
Hosted by HermNaz's Elevate Student Ministry

Facebook Event




SATURDAY, MARCH 7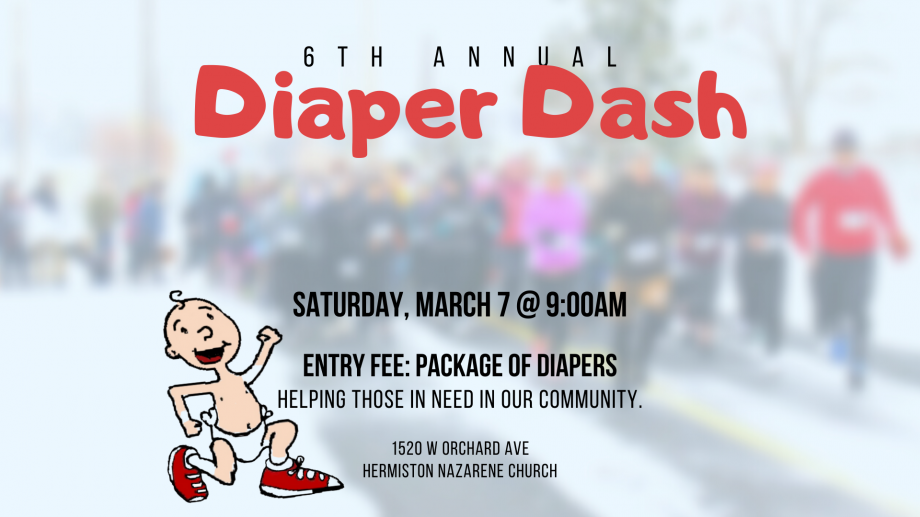 Diaper Dash
March 7, 2020 | 9:00am start time
Open at 8:00am for registration/check-in

Entry Fee: a package or box of diapers
Giving diapers to those in need in our community during the year.

Details and REGISTRATION: http://www.hermistonnazarene.org/ministries/diaper-dash.html

Facebook Event




Previous Campus Tours & Dinner
Saturday, March 7 at 4:00pm
Meet at Union Club (201 E Main Street, Hermiston) at 4:00pm.
Touring our 2 previous church campuses then meeting back at HermNaz for dinner, worship, and Pastor Allan Franks to speak.

Soup and salad dinner is provided at HermNaz -- please bring a dessert to share.




SUNDAY, MARCH 8

Celebration Sunday
10:30am
Bring the family for an exciting service including
worship with the band Final Greetings,
our District Superintendent, David Mowry, will be speaking,
and we will remember and celebrate the years of HermNaz and God's goodness.

THEN join us for an all-church lunch.
We will bury our Time Capsule during lunch.

A pasta lunch is provided -- please bring French bread to share.





Facebook Event for the weekend







Time Capsule

To culminate our 70th Anniversary Weekend, we are burying a Time Capsule!

We are looking for any newspaper articles or pictures from our church's functions, events, and stories from the years. Big or small, we'd like to see and share it that weekend!
If you have an article (even to be included in the Time Capsule), please give it to the church office as soon as possible. They can be the original copy or we can make a copy of it. Since we are including a flash drive in the Time Capsule, they can also be digital!

We are also looking for memories. If you have a memory of the church, its people, its past buildings, or events, we would love to save that memory. We can take a video of you sharing it or you can write it down. We will have opportunities to share stories in person that weekend, but we also want to preserve them in a special way.

Deadline to submit memorabilia is February 16th.
If you would like to schedule a time to record your story or if you have any questions about this, please contact Linda Baker (541) 720-0249 meandmabaker@yahoo.com , or the church office (541) 567-3677 HermistonNaz@gmail.com.



70th Anniversary Edition t-shirt ordering opportunity:
coming soon