Christmas Adopted Families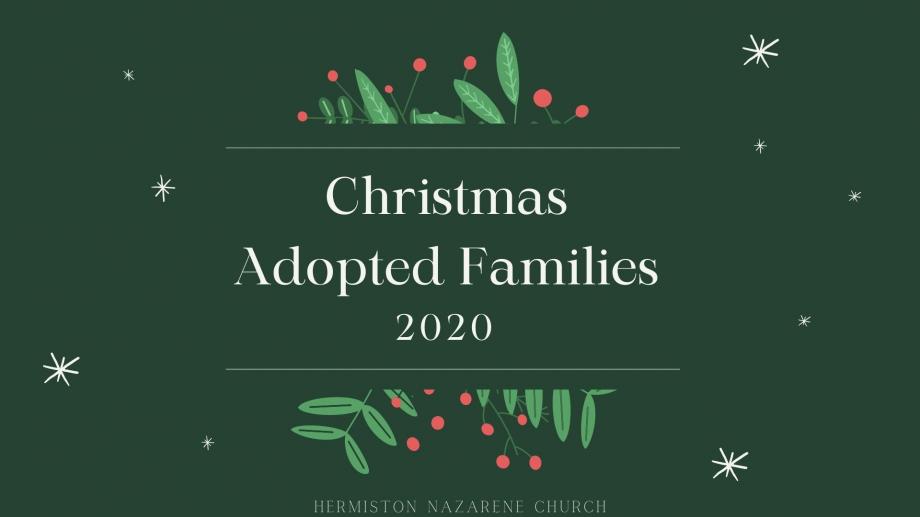 CHRISTMAS ADOPTED FAMILIES
2020
This year we blessed HermNaz Church families who are shut-in, in assisted living homes, having health issues, or just needing some extra love this Christmas.

Thank you
for your gifts of love and support to our Adopted Christmas Families. Whether you wrote a note, gave a gift, donated, or delivered a gift basket...thank you. It was very appreciated and is special to know their church family loves them and cares for them.

If someone comes to your mind in the days of the coming year, be sure to pray for them and perhaps even send a note. This Christmas season we blessed those in assisted living homes and those shut-in, dealing with health issues, and who needed an extra touch of love this Christmas season. But that doesn't mean you can't do the same for someone else throughout the year, too!
Thank you for taking the time and effort to encourage some of our church family who need some extra love this season.
--------------------------------------
--- YEARS PAST ---
Thank you for helping us help others.
It's neat to be able to look back and see God's goodness and provision...
2019 •
Christmas Adopted Families
In 2019, we were following God's Word and taking care of our own. HermNaz adopted Pastor Eric & family and Pastor Michael & family. Both families faced unexpected medical issues.
2018 • Christmas Adopted Family
"It is more blessed to give than to receive." - Jesus, Acts 20:35
We had the opportunity to bless a local family; a single mother (& waitress) with two children. They were living in a camp trailer with one bed; the children each slept in a recliner. Thus, we focused mostly on gifts of family experiences and gift cards. We were able to get the kids bed mats to sleep on and a variety of gift cards for groceries, etc..
We even got a thank you card from them!
2017 • Christmas Adopted Family • A Home for Christmas
Due to a cancer battle, this Adopted Family of 6 had lost everything and were living in a shelter.
We were able to provide items for home and self. As well as help find a home and cover some rent money! THANK YOU.
2017 • Summer Fires
Helping a family (nearby neighbors to our church building) who lost their home in a field fire with items and getting back on their feet.